Gate2Space
Gate2Space has been an annual conference since 2014. The most recent event – the 8th Gate2Space conference took place as part of the Czech Space Week 2021 festival, which was traditionally organized in cooperation with the Ministry of Transportation of the Czech Republic.
The conference was focused on the possibilities of involving Czech entities in space activities.
Speakers presented European Space Agency (ESA) programs, ESA Technology Broker project, ESA and EU satellite navigation and telecommunications programs, how space cooperation works in Europe, information on the ESA Spark Funding financial instrument, the Horizon Europe program and Enterprise Europe Network services in the Czech Republic.
A lecture on the direction of the Czech Republic in the field of future space activities was a part of the conference.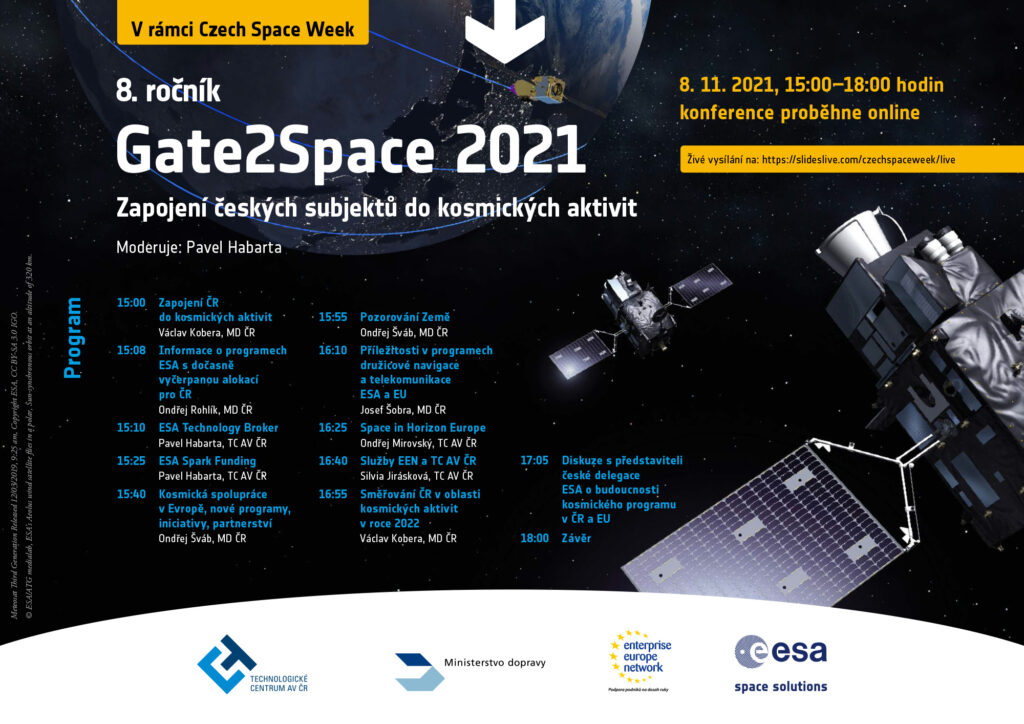 See previous years:
2020:
https://www.tc.cz/cs/akce/konference-gate2space-1
2019:
https://www.tc.cz/cs/novinky/prezentace-z-konference-gate2space-2019
2018:
https://www.tc.cz/cs/novinky/uskutecnil-se-paty-rocnik-gate2space
2017:
https://www.tc.cz/cs/pro-media/foto/fotogalerie/gate2space-2017
2016:
https://www.tc.cz/cs/novinky/prezentace-z-akce-gate2space
2015:
https://www.tc.cz/cs/akce/pozvanka-na-seminar-gate2space-2015